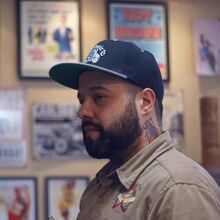 Andre Fernandes (15 de Julho e 1975) atuou como body piercer e body modifier. É considerado um dos precursores das modificações corporais mais extremas no Brasil. Atualmente é barbeiro e produtor cultural.
História
Edit
Começou a trabalhar com piercing em 1997, na verdade foi para Inglaterra e lá conheceu Brian e Carlo que faziam piercing e começou a ajudá-los entregando panfleto e as vezes ficava dentro da loja. Um dia eles o convidaram para ser aprendiz. Voltou ao Brasil e começou fazendo em casa, depois conseguiu trabalho na Tattoo You onde permaneceu por 11 anos. Lá teve a oportunidade de conhecer Javier Maidana que também o ensinou várias coisas. Em 2002 resolvi se aventurar pela Europa e obter mais conhecimento, trabalhou na Espanha, França e Inglaterra. Foi quando conheceu Lukas Zpira, sua maior influência, trabalhou com ele na França e depois aqui no Brasil[1].
Andre Fernandes além de desenvolver um trabalho prático, também esteve envolvido com o processo de formação de vários profissionais, promovendo seminários, workshops e trazendo ao Brasil alguns dos melhores profissionais do mundo, dentre eles Lukas Zpira, Samppa Von Cyborg e Steve Haworth.
Ligações Externas
Edit
Referências
Edit
↑ Especial Steve Haworth no Brasil: Entrevista com Andre Fernandes. Disponível em: <http://www.frrrkguys.com.br/especial-steve-haworth-no-brasil-entrevista-com-andre-fernandes/>.
Ad blocker interference detected!
Wikia is a free-to-use site that makes money from advertising. We have a modified experience for viewers using ad blockers

Wikia is not accessible if you've made further modifications. Remove the custom ad blocker rule(s) and the page will load as expected.