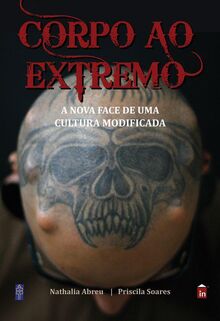 Corpo ao extremo - a nova face de uma cultura modificada é o primeiro livro-reportagem lançado no Brasil sobre a modificação corporal extrema. Escrito pelas jornalistas Nathalia Abreu e Priscila Soares.
Segundo as autoras deste livro, a modificação corporal do mundo contemporâneo se iniciou com a popularização da tatuagem. No entanto, aos olhos da maioria, ela atinge um nível bem mais extremo. Este livro é uma tentativa de mostrar um pouco do cotidiano, como são vistas, e como se sentem as pessoas que se modificam por meio de intervenções, sejam implantes subcutâneos e escarificações, ou a realização de suspensões corporais.
Datalhes
Edit
Origem:  NACIONAL
Editora:  EDITORA IN HOUSE
Idioma:  PORTUGUÊS
Edição:  1
Ano:  2012
País de Produção: BRASIL
Código de Barras:  9788578992064
ISBN:  8578992067
Encadernação:  BROCHURA
Altura: 23,00 cm
Largura: 16,00 cm
Peso: 00,32 kg
Complemento:  NENHUM
Nº de Páginas:  146
Ligações Externas
Edit
Referências
Edit
Ad blocker interference detected!
Wikia is a free-to-use site that makes money from advertising. We have a modified experience for viewers using ad blockers

Wikia is not accessible if you've made further modifications. Remove the custom ad blocker rule(s) and the page will load as expected.