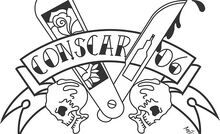 Conscar é uma uma espécie de convenção voltada exclusivamente para a escarificação. O evento foi criado em 2006 por Luciano Iritsu e Danilo Skatuaba em São Paulo.
História
Edit
A primeira edição da Conscar aconteceu nos dias 21 e 22 de Outubro de 2006 no Iritsu Tattoo Shop em São Paulo[1]. O evento foi idealizado e organizado por Luciano Iritsu e Danilo Skatuaba. Nos dois dias de atividades o evento contou com a participação de profissionais nacionais e internacionais.
Ao todo houveram 3 edições da Conscar. A última edição aconteceu em 2006 e foi organizada por T. Angel[2].
Ligações Externas
Edit
Referências
Edit
↑ Túnel do tempo: cobertura da primeira convenção de escarificação no Brasil. Disponívl em: <http://www.frrrkguys.com.br/tunel-do-tempo-cobertura-da-primeira-convencao-de-escarificacao-no-brasil/>.
↑ Cobertura exclusiva: Conscar³. Disponível em: <http://www.frrrkguys.com.br/cobertura-exclusiva-conscar%C2%B3/>.
Ad blocker interference detected!
Wikia is a free-to-use site that makes money from advertising. We have a modified experience for viewers using ad blockers

Wikia is not accessible if you've made further modifications. Remove the custom ad blocker rule(s) and the page will load as expected.