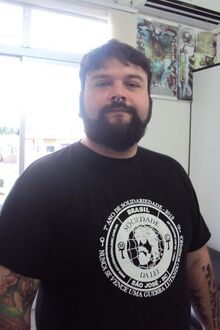 Fabrício Cardoso (19 de Outubro de 1978) também conhecido como Piercer Bambino é body piercer desde 2001, atuando principalmente na região Sul do país.
Participou de diversos cursos que envolvem os estudos das modificações corporais e continua estudando[1].
Ligações Externas
Edit
Referências
Edit
↑ Currículo eletrônico. Disponível em: <http://www.ciadopiercing.com/search?q=curriculum>.
Ad blocker interference detected!
Wikia is a free-to-use site that makes money from advertising. We have a modified experience for viewers using ad blockers

Wikia is not accessible if you've made further modifications. Remove the custom ad blocker rule(s) and the page will load as expected.