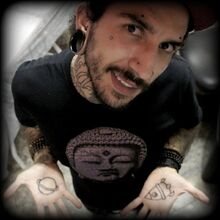 Felipe Campos (03 de Março 1988) é um body piercer de São Paulo.
História
Edit
Em 2015 o profissional da perfuração do corpo completa dez anos de atuação como piercer. Foi em fevereiro de 2005 que recebeu o seu primeiro diploma, ele conta em sua biografia que:
"Foram meses de aprendizado, achando que nunca conseguiria. Como eu tremia, tadinho dos meus mestres. A partir daí tudo começou a fazer sentido, era exatamente isso que queria fazer para o resto da minha vida."
O primeiro emprego de Felipe Campos e onde permanece trabalhando como piercer foi na Klash Tattoo, que se tornou sua casa.
Ligações Externas
Edit
Ad blocker interference detected!
Wikia is a free-to-use site that makes money from advertising. We have a modified experience for viewers using ad blockers

Wikia is not accessible if you've made further modifications. Remove the custom ad blocker rule(s) and the page will load as expected.