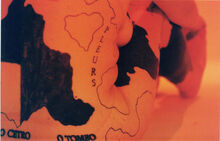 Geotomia (Brasil, 2000) trata do espaço e do corpo (geografia-anatomia) e investiga essa relação pelo
trabalho da artista Priscilla Davanzo, sua interação com o que a circunda e com o outro. A busca de um lugar pela expo-imposição de sua arte e de seu corpo, tatuado com manchas de vaca, negando os valores da sociedade.
Ficha Técnica
Edit
Direção, roteiro câmera e edição: Marcelo Garcia
Produção: Marcelo Garcia e Fabia Fuzeti (Cryptavideo)
Trilha Sonora: Anvil FX - Paulo Beto
Ilustrações: Kipper
Câmera adicional: Cacá Diniz
Assistência de edição e fotografia: Fabia Fuzeti
Gráficos: Pedro Vilela
Tipo: Videoarte
Ano Produção: 2000
Origem: Brasil (SP)
Duração: 19 min.
* Melhor Documentário - Festival Brasil Digital, 2001.
* Terceiro Melhor Vídeo - Festival Imagem em 5 Minutos, 2000.
Ligações Externas
Edit
Ad blocker interference detected!
Wikia is a free-to-use site that makes money from advertising. We have a modified experience for viewers using ad blockers

Wikia is not accessible if you've made further modifications. Remove the custom ad blocker rule(s) and the page will load as expected.