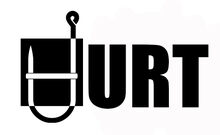 Hurt Fest é um evento mineiro que une suspensão corporal e música.
Em 2010 a Hurt Fest foi criada e organizada na cidade de Belo Horizonte por Marcos Cabelo e Miguel San Martin. Na ocasião eles contaram em entrevista que:
"A Hurt Fest surge da junção de duas idéias que já estavam em projeto desde o início do ano, onde ambas eram de fazer um evento do gênero de suspensão e body art aqui em BH, pois ainda não aconteceu nenhum evento voltado integralmente para o assunto, e a prática ainda é pouco difundida na cidade."[1]
As duas edições seguintes foram encabeçadas apenas por Marcos Cabelo.
Ligação Externa
Edit
Referências
Edit
↑ Hurt Fest: evento de suspensão acontece em Belo Horizonte. Disponível em: <http://www.frrrkguys.com.br/hurt-fest-evento-de-suspensao-em-belo-horizonte/>.
Ad blocker interference detected!
Wikia is a free-to-use site that makes money from advertising. We have a modified experience for viewers using ad blockers

Wikia is not accessible if you've made further modifications. Remove the custom ad blocker rule(s) and the page will load as expected.