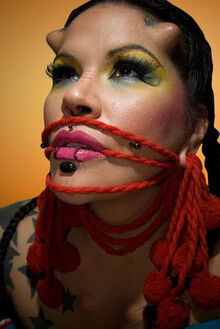 La Negra é uma performer da Argentina e referência mundial da modifcação do corpo e suspensão. Foi destaque na Bizarre Magazine e inúmeras vezes no BMEzine.
Segundo apontam registros, ela fez a sua primeira tatuagem quando tinha 14 anos de idade.
Trabalhou na organização da primeira convenção de arte corporal de Buenos Aires em 2004. Foi também responsável pela revista Piel Magazine (2001-2011)[1].
Atualmente La Negra segue vivendo na Argentina e é mãe de duas meninas. Tem trabalhado com maquiagem, com a produção de roupas e acessórios e jornadas privadas de suspensão corporal.
Ligações Externas
Edit
Referências
Edit
↑ La Negra e as suas contribuições para a história da modificação corporal. Disponível em: <http://www.frrrkguys.com.br/la-negra-e-as-suas-contribuicoes-para-a-historia-da-modificacao-corporal/>. Último acesso: 16 Setembro de 2014.
Ad blocker interference detected!
Wikia is a free-to-use site that makes money from advertising. We have a modified experience for viewers using ad blockers

Wikia is not accessible if you've made further modifications. Remove the custom ad blocker rule(s) and the page will load as expected.