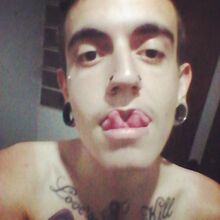 Liam Alvers (21 de setembro de 1995) é um body piercer e body modifier, atua na região do interior de São Paulo. Trabalha desde Julho de 2013 na Rio Preto Ink, uma das maiores lojas de piercing e modificação do interior.
Começou trabalhando com o piercing básico, depois surface e microdermal. Atualmente faz, além do básico, surface, scalp, microdermal, escarificação, reconstrução de lóbulo, implantes e bifurcação de língua.
Sua iniciação na Body Art se deu inicalmente fazendo perfurações de forma autodidata, posteriormente buscou se especializar através de diversos cursos e workshops, entre eles cursos de Biossegurança, Primeiros Socorros e posteriormente participou do Workshop de Implantes realizado por Steve Haworth, o desenvolvedor dessa técnica no mundo.
Atualmente tem ministrado Workshops voltados à prática segura do Body Piercing pelo interior de São Paulo.
Em 2016, foi co-idealizador da 1ª Semana de Arte Corporal de São José do Rio Preto, que contou com Palestras, Workshops e discussões com o objetivo de disseminar as práticas do Body Piercing, Body Modification e Suspensão Corporal da cidade.
Liam Alvers começou suas modificações corporais aos 14 anos, com alguns piercings e dilatando os lóbulos. Atualmente tem alargadores nos lóbulos (40mm), bifurcação na língua, implantes, microdermal e alguns piercings. Também ja passou pela prática da Suspensão Corporal em 2013, feita por Daniel Rodrigo Piercer.
Se diz um apaixonado pela body art e body mod, e preza pela biossegurança em seus procedimentos.
Ligações Externas
Edit
Ad blocker interference detected!
Wikia is a free-to-use site that makes money from advertising. We have a modified experience for viewers using ad blockers

Wikia is not accessible if you've made further modifications. Remove the custom ad blocker rule(s) and the page will load as expected.