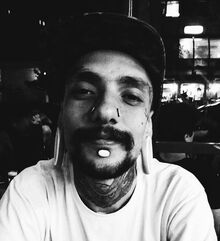 Marcos Cabelo (19 de Dezembro de 1988) é um body modifier e produtor cultural do Brasil, com atuação principalmente em Belo Horizonte, Minas Gerais. Foi straight edge e é vegano.
História
Edit
Por alguns anos Marcos Cabelo trabalhou com venda de materiais para tatuagem e perfuração corporal. Passou a estudar práticas de modificação corporal com o profissional Sick e com isso vem realizando alguns procedimentos.
Em 2010 co-idealizou e organizou a Hurt Fest, com a intenção de difundir a prática da suspensão corporal e a body art em Belo Horizonte[1]. Houveram mais duas edições do evento, dessa vez organizado somente por ele, nos anos 2012[2] e 2014[3].
Ligações Externas
Edit
Referências
Edit
↑ Hurt Fest: evento de suspensão em Belo Horizonte. Disponível em: <http://www.frrrkguys.com.br/hurt-fest-evento-de-suspensao-em-belo-horizonte/>.
↑ Shows, suspensões e performances marcaram a Hurt Fest 2. Disponível em: <http://www.frrrkguys.com.br/shows-suspensoes-e-performances-marcaram-a-hurt-fest-2/>.
↑ Em dezembro acontece em Belo Horizonte a terceira edição da Hurt Fest. Disponível em: <http://www.frrrkguys.com.br/em-dezembro-acontece-em-belo-horizonte-a-terceira-edicao-da-hurt-fest/>.
Ad blocker interference detected!
Wikia is a free-to-use site that makes money from advertising. We have a modified experience for viewers using ad blockers

Wikia is not accessible if you've made further modifications. Remove the custom ad blocker rule(s) and the page will load as expected.