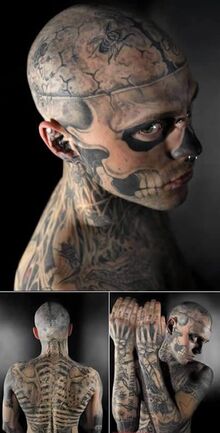 A modificação corporal (do inglês body modification) é a alteração do corpo humano - quase sempre de modo permanente - feita através de uma escolha individual motivada por uma diversa gama de possibilidades: religiosa, erótica, estética e artística seriam alguns exemplos possíveis. É uma prática sócio-cultural que acompanha toda a história da humanidade, não existindo um registro exato de onde e quando tenha começado.São técnicas de uso do corpo que há milhares de anos estão presentes em várias sociedades, como as tatuagens na Oceania, as perfurações na Ásia e na América, e a escarificação na África.
Alguns estudos e registros apontam que esses costumes tribais foram descobertos pelos viajantes e marinheiros europeus no século XVI, mas ficaram marginalizados durante muito tempo. Na década de 1960 houve uma valorização da cultura oriental e as tatuagens passaram a ser mais populares. Já as perfurações e os piercings começaram a se popularizar no Ocidente na década de 1970, através dos movimentos de contracultura, como por exermplo através do movimento Punk[1]. Na década de 1990 ocorreu uma explosão de estilos e práticas.
Entendemos que a modificação corporal seja um campo realmente vasto, no entanto, pinçamos um pequeno recorte e ao falar de body modification estamos tratando de técnicas que se compreendem como body piercing, tatuagem, escarificação, implantes, línguas bipartidas e técnicas similares.
Ver também
Edit
Piercing
Tatuagem
Escarificação
Ligações Externas
Edit
Cite error: <ref> tags exist, but no <references/> tag was found
Ad blocker interference detected!
Wikia is a free-to-use site that makes money from advertising. We have a modified experience for viewers using ad blockers

Wikia is not accessible if you've made further modifications. Remove the custom ad blocker rule(s) and the page will load as expected.