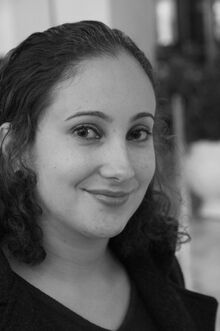 Nathalia Abreu (05 de Maio de 1989) é uma jornalista de São Paulo e co-autora do livro Corpo ao Extremo.
História
Edit
Nathalia Abreu é jornalista formada em 2010 pela Uniban (Universidade Bandeirantes de São Paulo) e pós-graduada em Jornalismo Cultural pela FAAP (Fundação Armando Álvares Penteado). Começou a carreira no segmento do jornalismo destinado ao Turismo como estagiária dentro da empresa MAPA Comunicação, assessoria de imprensa especializada na área. Atuou posteriormente como repórter no Hótelier News, site focado em hotelaria. Com passagem também por jornal impresso e redação de agência publicitária. É co-autora do livro Jornalismo Policial - Histórias de quem faz, publicado pela editora In House. Apaixonada pela modificação corporal seguiu com suas pesquisas em sua especialização lato sensu, focando a suspensão corporal como arte e performance.
Ad blocker interference detected!
Wikia is a free-to-use site that makes money from advertising. We have a modified experience for viewers using ad blockers

Wikia is not accessible if you've made further modifications. Remove the custom ad blocker rule(s) and the page will load as expected.