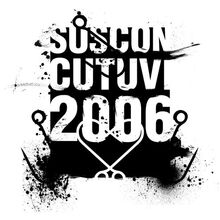 Suscon Cutuvi foi um evento de suspensão corporal que aconteceu na cidade de São Paulo entre 2003 e 2006, organizado por Filipe Berndt e Felipe Tofani.
História
Edit
A Suscon Cutuvi é considerado o primeiro evento exclusivo para suspensão corporal no Brasil. Há pouca informação disponível online, isto desde que o site Neoarte retirou parte de seu conteúdo do ar. Algumas imagens e informações podem ser encontradas no ModBlog do BMEzine[1].
Também foi produzido um documentário na ocasião da segunda edição.
Referências
Edit
↑ Your next teen crush. Disponível em: <http://news.bme.com/2005/11/20/your-next-teen-crush/>.
Ad blocker interference detected!
Wikia is a free-to-use site that makes money from advertising. We have a modified experience for viewers using ad blockers

Wikia is not accessible if you've made further modifications. Remove the custom ad blocker rule(s) and the page will load as expected.