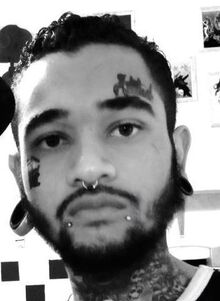 Uéferson Rocha de Oliveira (21 de Julho de 1994), também conhecido como Fefinho Rocha, é um body piercer brasileiro, com atuação na região norte do país.
Está trabalhando na área do body piercing há 4 anos, profissionalmente há 2 anos. Durante três anos atuou no estado da Bahia, atualmente está no Estúdio Snyper Tattooo no estado de Goiás, na cidade Goiânia.
Ligações Externas
Edit
Ad blocker interference detected!
Wikia is a free-to-use site that makes money from advertising. We have a modified experience for viewers using ad blockers

Wikia is not accessible if you've made further modifications. Remove the custom ad blocker rule(s) and the page will load as expected.